I offer many standard UX services on my website. One of those services is Expert Reviews. I love Expert Reviews. Without them, I wouldn't have a passion for UX. The software industry itself would not have adopted the concept of UX without Expert Reviews. Expert Reviews birthed the entire UX profession! With all that said, Expert Reviews are for chumps.
Clients are usually taken aback when I tell them this. Many of my clients, like Expert Reviews, and I don't blame them. According to the Nielsen Norman Group, "Expert Reviews are a UX method for finding the usability problems in a user interface design with the purpose of finding and fixing problems iteratively. Expert Reviews involve having a small set of evaluators examine an interface and judge its compliance with the recognized NN/g 10 usability principles called 'user heuristics.'" These reviews are valuable because they provide professional feedback on your entire site/app and result in a profoundly insightful report.
The problem with Expert Reviews is they work best for organizations running multiple projects that are trying to figure out where to spend their time and money. For the price, Expert Reviews can only lead to future usability testing. If you only have a few projects, might as well jump right into usability testing if you think your 1st draft design is fairly fleshed out. However, there are some unique cases where I would recommend Expert Reviews. If you need help picking the best UX research method for a project, feel free to contact me at any time. I'd be happy to work with you to discover your best options.
So, my general advice is to go for the UX method that has a much bigger bang for its buck; Usability Testing.
The stats
Expert Reviews unearth around 30% of a site/app's usability issues while Usability Tests unearth about 85% of a site/app's usability issues.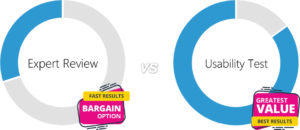 The good news is I am giving away a ton of usability tests for free through the 1000 FREE Usability Tests Project. How convenient. (See what I did there?)